South Africa's News24 has claimed a "first" with an in-house elections forecaster used for the municipal polls.
In an INMA blog, the paper's audience engagement writer Qama Qukula says that while scenes involving long queues of voters, electoral officials, ballot papers and "thousands of inked thumbs" have become commonplace, few news organisations have the capacity to build their own forecasting tools.
"News24, the largest and most trusted digital news publisher in South Africa, was the first in the industry to introduce an elections forecaster in November 2021. It was aimed at elevating the publication's election content offering."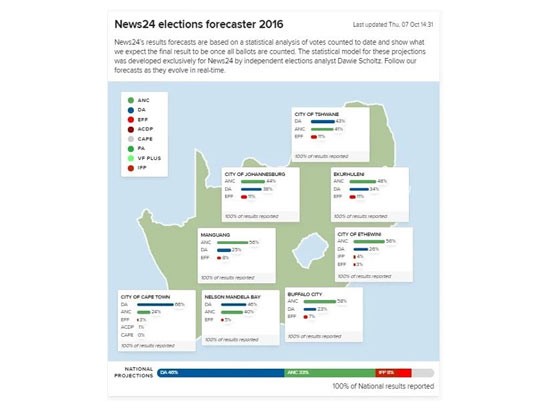 The tool went live on the day of the municipal elections and was built by Media24 developers and engineers in collaboration with News24's elections specialist Dawie Scholtz.
It provided a breakdown of expected results in the country's metropolitan municipalities as well as the expected overall levels of support political parties were expected to achieve.
The forecaster consisted of a live national map denoting the different metros across South Africa, and was updated in real-time based on mathematical models first used by News24 during the 2019 general election. These considered factors such as previous poll results, voting patterns, and estimated turnout to project an expected result in a specific area.
"We developed these forecasts by using live results as they came in and doing a demographic analysis of data and we essentially used the live results as 'samples' for the various demographics and used that to make a final projection," Scholtz explained.
He described it as a "game-changer" for South African political coverage because it was the first time a forecasting model that projects the final election results was used on such a scale in the country.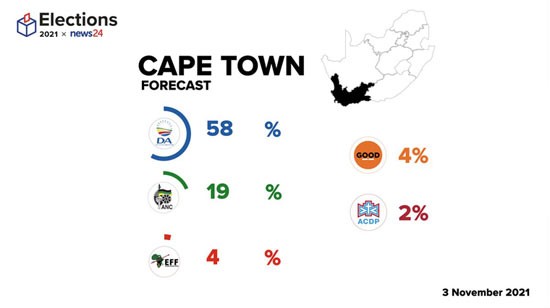 Despite a short lifespan, the forecasting tool was embraced by News24 readers and worked hand-in-hand with the publication's newly revamped election results maps in the News24 elections hub.
As the forecasts were released, they were paired with premium subscriber-only articles aimed at attracting new subscribers and as a value-add to the existing subscriber base.
While the in-depth, analytical stores remained locked behind a paywall, the forecaster remained free to all users.
According to News24's data and analytics editor, Kate Henry, the premium election articles that were linked to the forecaster had a heavy "retention" value for current subscribers.
Henry said the forecaster's accuracy impressed readers in the days following the elections, attracting nearly 500,000 page views, 326,200 users, and garnering an average time on page of two minutes 39 seconds.
As the final forecasts were logged, readers turned to the elections map to confirm News24's results, which tracked incredibly close to the forecaster with 3,863,713 page views, 1.8 million users and three minutes 41 seconds average time on page.
"Once we had called all the elections, the forecaster was done, and readers made use of the map. Seeing how close predictions were to the official results was incredibly satisfying."